Will be checking this out….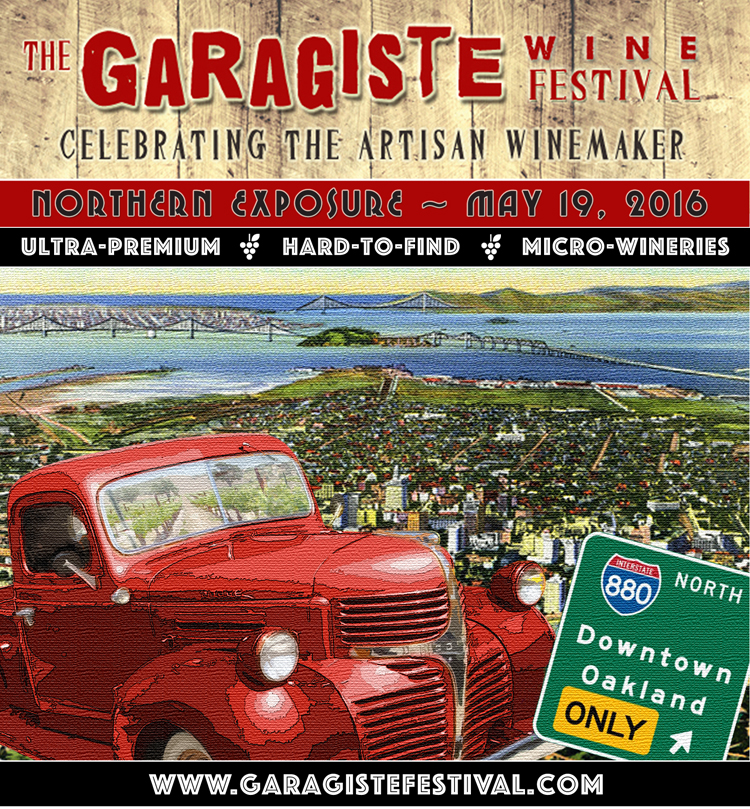 The Garagiste Wine Festival features excellent, undiscovered 'garagiste' micro-wineries who are making some of the best, most exciting, handcrafted small-lot wines in the world.
The rare wines being poured at this event are extremely hard to find. Most of the wineries participating do not have a tasting room. This is a one-of-a-kind-opportunity for you to get ahead of the curve and discover these cutting-edge wines and winemakers all under one roof. And it is the winemakers themselves who pour at The Garagiste Festival – meet them personally and get their stories while you taste their wines.
After five years of successful, sold-out events in Southern California and the Central Coast, The Garagiste Festival is finally bringing this in-demand show to Northern California.
There will be 32 wineries from both Northern California and the Central Coast, most of whom will likely be new to you.
Come taste the cutting-edge of the exploding California garagiste micro-winery movement and see why we are one of the most talked about events in the wine world.
– "BEST FESTIVAL" – Sunset Magazine, "Best of the West" issue.
– "One of the Top Ten "Incredible Epicurean Destinations in the World" – ABC News
– "One of wine's premier events. Fun and exuberant…This is one not to miss." – LOS ANGELES TIMES
– "A fun, yet informative setting to taste these ultra-premium wines, and meet with the unique Garagistes who crafted them "- LA Wonders
– "Where the cutting edge cuts most intensely; winemakers you haven't yet heard about, let alone tasted. It's a crazy thrill of discovery." – KCET
This evening of tasting offers over 100 unique handcrafted wines made from over 18 different grape varieties and poured by 32 hard-to-find, cutting-edge commercial artisan winemakers both from the Bay Area as well as the Central Coast. Over 70% of the winery participants do not have tasting rooms (or are widely available in the marketplace), so this will be the first time many of these wines will be available to the public.
Meet the winemakers, taste their passion!
PARTICIPATING WINERIES INCLUDE:
Northern CA:
Chenoweth Wines, El Lugar Wines, Flywheel Wines, Halcon Vineyards, Kendric Vineyards, Legendre Cellars, Lynch Wines, Maidenstoen Wines, Murder Ridge Winery, Playground Cellars, Russian Ridge Winery, Theopolis Vineyards, Travieso Winery, Tessier Winery, Two Shepherds Wines and Von Holt Wines.
Central Coast:
Ascension Cellars, Bodega de Edgar, Carucci Wines, Cloak and Dagger Wines, Cutruzzola Vineyards, Dilecta Wines, Levo Wines, MCV Wines, Ryan Cochrane Wines, Tercero Wines, The Central Coast Group Project, Vinemark Cellars, Weatherborne and Workman Ayer.
use promo code for $10 discount: GFFRIEND16